Are you afraid of not having enough money to retire? Want more time for family and hobbies? Desire more savings?
"Money Magazine selected Dr. MAC" as one of the 200 best Certified Financial Planning practitioners in America. She received a Presidential appointment to Chair the National Women's Business Council, and Arkansas Business Magazine chose her as one of the top 100 women in Arkansas.
Dr. MAC's favorite 4-letter word after L-O-V-E is S-A-L-E! She is currently experiencing SALE withdrawal as she bites the bullet on her budget so that she can practice what she preaches. I present…Dr. Mary Ann Campbell!
Mary's Accomplishments
Dr. Mary Ann Campbell, CFP
"An Entertaining Speaker with a Message"
Money Magic, Inc.
+1 (501) 993-6644 C
mac@moneymagic.com www.moneymagic.com
Dr. Mary Ann Campbell, CFP, is a committed money educator and community leader. Money Magazine listed Mary Ann as one of America's 200 best CERTIFIED FINANCIAL PLANNER Practitioners. She won two national awards for her Money Magic ETV series on PBS in Arkansas and her innovative teaching techniques. She is a financial journalist. Dr. Campbell is an experienced on-air television and radio personality as a business and financial reporter, educator, and interviewer.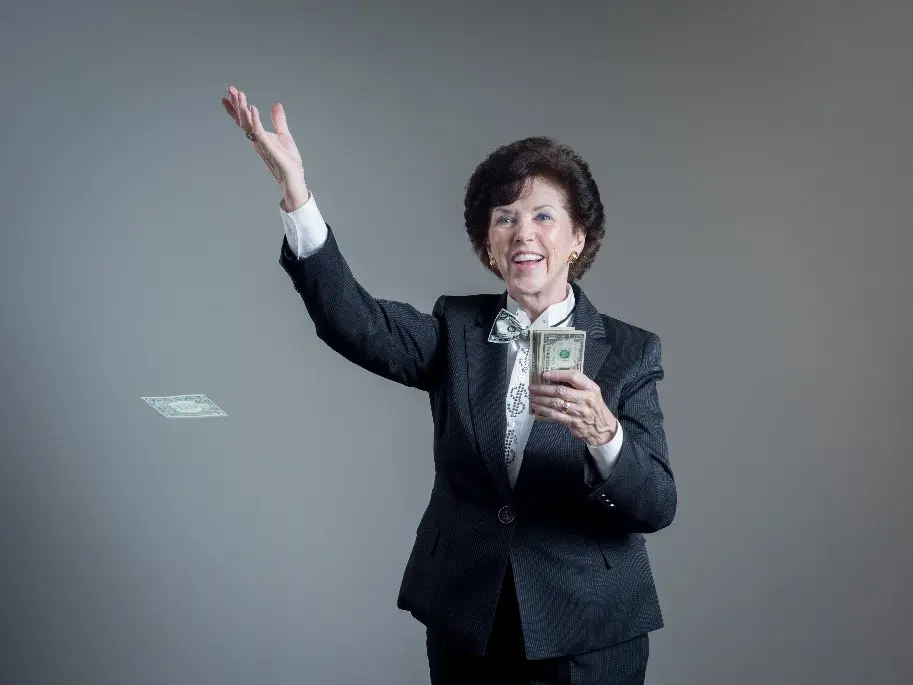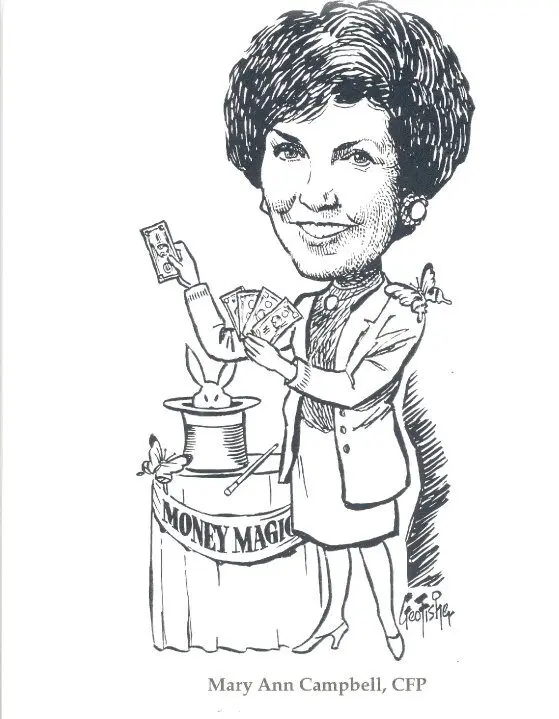 Mary Ann is a consumer advocate and specializes with clients on cash flow and credit control. She was a writer and national spokeswoman for IndexCreditCards.com. Dr. Campbell has been quoted in numerous national publications, and her articles have been posted on Forbes.com, FoxBusiness.com, U.S. News and World Report.com, and WalletPop.com.
"Dr. MAC," as her college students called her, taught personal finance at the University of Central Arkansas for 20 years and the University of Arkansas at Little Rock for 15 years. Dr. Campbell has won service awards related to her research and teaching. Dr. MAC was a founding member of the Arkansas Jump$tart Coalition, which consists of volunteers promoting financial literacy for youth.
Dr. Campbell received a Presidential appointment to Chair the National Women's Business Council, where she dealt with heads of agencies and members of Congress on policy issues to helping improve small business opportunities. Arkansas Business noted her as one of the top 100 women in Arkansas. She is a founding member of the Arkansas Chapter of the International Women's Forum. Mary Ann served multiple terms on the Financial Planners Association of Arkansas board and Chaired the Advisory Council for the Arkansas Small Business and Technology Development Centers for 15 years. She also served on the National Small Business and Development Center's Advisory Council and the national Consumer Product Safety Commission's Advisory Board.
Dr. Campbell completed her Ph.D. at Iowa State University, her Master's degree at Texas Woman's University, and her undergraduate degree at Ouachita University in Arkadelphia, Arkansas. Mary Ann completed her certified financial planner certificate (CFP®) from the College for Financial Planning in Denver, CO.
Being a mother and grandmother is Mary Ann's greatest joy. Flower gardening and magic are her hobbies.